Minimally invasive Cardiac surgery(MICS)
What exactly constitutes Minimally invasive cardiac surgery( MICS)? By definition , MICS is the use of lesser invasive incisions or techniques to perform cardiac surgery. It has been around for a few years and had been started in Pune since 1995 when the first Left internal mammary artery to the Left anterior descending artery graft  ( LIMA- LAD) was done through a small ( 10cms) incision under the left nipple by me .Thereafter, it has continued in small numbers only, primarily due to the rapid advances in the field of cardiology in the form of drug coated stents and device closure of atrial septal defects.
As is natural , surgery is the last choice for most patients and is only accepted if there is no option either through medicines or non operative methods.This was because surgery is perceived as being very painful and left a big and sometimes unsightly scar.  MICS addresses these concerns by being less painful, providing more cosmetic incisions and faster recovery with the same safety and efficacy.
If it is so good , why is it not used more frequently or in all heart surgeries??
One has to remember that a bigger  incision (full midline sternotomy, 10-12 inches long ) fig1, is what is the usual incision for heart surgery that all of us have been trained with , and that provides a full exposure to the heart. It has built in safety and comfort as all parts of the heart are easily seen and are reachable through this one incision. MICS involves much smaller incisions ( 2-4 inches) , hence the surgeon can see only the part of the heart that is being operated upon ( e.g. only the blocked artery or the defective valve) thereby making it much more difficult to see and reach in to operate. It is much like trying to replace a part in a small tunnel without being able to see very clearly or without being able to put your hands in it.It is much more complicated than laparoscopic surgery as unlike the gall bladder,  the heart keeps beating while the surgery is performed.
It requires specialised expensive  instruments and techniques like introperative echocardiography, and training to use these effectively and is much more time consuming – average operative times about 25-30% more than in conventional surgery.
Initial enthusiasm for MICS was also tempered by concerns over reduced surgical exposure in highly complex operations and the potential for prolonged operative times and patient safety. Hence surgeons are very selective in offering this procedure to certain type( less complex)  of patients only.
However more surgeons are getting trained in these techniques, as well as developing innovative techniques that make the procedure easier without defeating the essence of MICS. Recently, there has been a growth in the body of published literature on MICS long-term outcomes, with most reports suggesting that major cardiac operations that have traditionally been performed through a median sternotomy can be performed through a variety of minimally invasive approaches with equivalent safety and durability.
What are the type of cardiac surgeries being performed through minimally invasive approaches?
1.Coronary bypass surgery-CABG
2.Aortic valve replacement-AVR
3. Mitral valve repair and replacement-MVR
4. Repair of Atrial septal defects ( ASD) and ventricular septal defects (VSD)
5. Closure of PDA.
Incisions used for minimally invasive cardiac surgery
CABG
This is today the commonest operation being performed in the country and one of the first to be performed using minimally invasive techniques. Today the best CABG a patient can have is a total arterial bypass on a beating heart with small incisions.
If only 1-3 grafts are needed on the left side of the heart, the operation can be done using a small incision( 8-10cms) under the patients left breast after spreading or cutting the ribs (MIDCAB)  .MIDCAB incision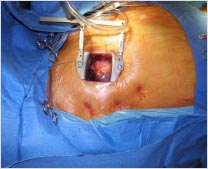 Lower Mini sternotomy CABG.
If however there are more severe blocks or blocks on the right side of the heart as well as the left side, a new operation called a lower partial sternotomy, which is a small incision( 8-10cms) in the middle of the chest cutting only the lower breast bone ( sternum)  is preferred. This allows the surgeon to perform upto 6 grafts ( bypass upto 6 blocks) using all arteries without any compromise to the quality  of the grafts ( good visualisation) . More importantly , as the upper sternum is left intact, there is much less pain and healing is also faster.
In my opinion this is the ideal operation today using minimally invasive techniques without compromising on the quality of the operation or the comfort of the surgeon. This technique does not need any special instruments and is hence not costlier than a routine surgery.  I have been using this incision in most of my patients in the last 3 months.
Minimally Invasive Aortic Valve replacement
The most common approach used for an Aortic valve replacement  is the upper mini-sternotomy (fig  3), Upper ministernotomy incision
using a J, inverted T or other similar incision. This approach provides several advantages over other incisions. It provides adequate exposure whileminimizing postoperative pain and minimally affecting thoracic cage stability . If necessary, it can be extended to provide additional exposure, hence safety is not compromised at any stage of the surgery. The same operation can also be  safely performed using a 4-8 cms incision on the right chest ( right thoracotomy), but this approach requires special instruments and an additional incision in the groin to connect the heart-lung machine and is thus more expensive than the ministernotomy.
Minimally Invasive Mitral valve surgery(MIMVS)
The most popular approach for MIMVS is through a right mini-thoracotomy – small incision in the right chest under the breast  (fig 4)  that along with percutaneous neck  and groin cannulation ( pipes connected tothe heartlung machine)  to connect the heart lung machine,  allows easy repair or replacement of the mitral valve. However,regardless of the variety of surgical approaches, the overall objectives of MIMVS have remained constant – to provide a safe and eff ective approach for MVS with the benefits associated with minimal access surgery.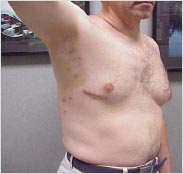 Exactly the same incision is used for closure of  an atrial septal defect or a ventricular septal defect ( hole in the heart) with excellent results.
Hybrid coronary revascularization
Hybrid coronary revascularization is a relatively new innovation that offers patients an alternative to traditional coronary artery bypass by employing a minimally invasive incision for LIMA–LAD bypass with stenting of other occluded coronaries during the same procedure. It should not be confused with the MIDCAB, which offers a minimally invasive incision, but no stenting .
Hybrid revascularization is the next logical step in the evolution of minimal access treatment of multivessel CAD. It is well established that utilizing a LIMA graft to the LAD for patients with CAD is more effective at decreasing symptoms and increasing patient survival than any other CAD therapy. Graft patency often lasts 10–15 years or more [117–121].
Hybrid revascularization allows for the benefit of both the surgical LIMA–LAD bypass graft and a minimally invasive incision, while percutaneous coronary intervention (PCI) is used for the treatment of non-LAD vessels. This combination of surgical LIMA–LAD and PCI affords the patient the best available therapy for any given set of cardiovascular lesions with minimal access and reduced heart manipulation [117]. Early hybrid revascularization techniques completed PCI and coronary bypass grafting in two separate procedures with the bypass grafting being performed on- or off-pump on a patient-to-patient basis; however, hybrid revascularization is now performed simultaneously, with the PCI and coronary artery bypass grafting occurring during the same procedure and off-pump.The deterrant for this technique is the prohibitively  high cost involved ( cost of CABG+PTCA and stenting)
Thus hybrid revascularization is currently used almost exclusively for patients who are too high risk,for routine CABG but can undergo a LIMA-LAD graft  and a stent for the other vessels thereby reducing the risk .
This technique has been successfully used in 5 patients at the Jehangir hospital since the last 2 years by myself and  Dr JS Dugal (cardiologist) .
Future perspective
Minimally invasive cardiac surgery continues to evolve and expand with growths in technology and surgeon experience. There has been a  significant amount of data on the safety and efficacy of MICS across a range of surgical operations, there is enough evidence to support the more  frequent use of such techniques. In the future, there will likely be a greater request for MICS approaches by patients seeking cardiac surgical options with reduced surgical trauma that allow for a faster return to normal activities and improved quality of life. In addition, MICS itself will continue to evolve in the future through growing use of percutaneous technology, hybrid operating rooms and ongoing collaborations with interventional cardiologists.