About Athena Heartcare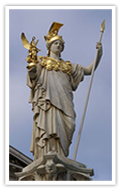 Athena Heartcare is an organization founded by Dr Manoj Pradhan and Dr Alka Pradhan to provide comprehensive high quality heart care to all. It was inspired by and named after the greek goddess Athena – the goddess of wisdom and craftsmanship – who though usually depicted holding a spear, with her golden helmet pushed back to reveal her elegant beauty, was known more for her role as judge, diplomat, and mediator than for actually fighting in battle.
The Greek goddess Athena championed many heroes, offering them her advice and protection, helping them to win their battles.
Heart Attacks


Heart attacks are the 2nd commonest cause of death in India today. The disconcerting fact is that India is often now referred to as the heart disease capital of the world. Heart disease affects Indians at least a decade earlier than in the west. What is causing this phenomenon Coronary artery disease-which is the cause of heart attacks, is known as a lifestyle disease.
Coronary Artery Disease


Before undergoing an angiogram, it's important to understand your treatment options. If your angiogram shows blockage, then a treatment decision must be made quickly. To ensure you are receiving the right treatment, it is essential that a comprehensive heart team consisting of a cardiologist, interventional cardiologist and cardiac surgeon review your case together